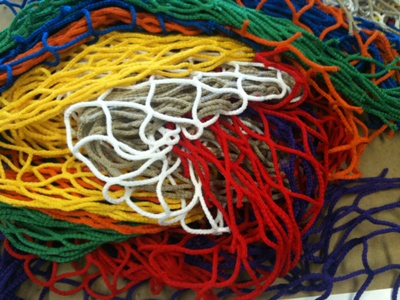 45mm x 3mm Knotless Cargo/Safety
Ref: 692
Knotless Netting 45mm x 3mm made from High Tenacity Polypropylene is a favourite for many of our customers, used extensively in such applications as Warehouse Racking, Hockey Goals, Mezzanine handrails, Children's Play Areas, Tree Houses, Lorry Load Securing Nets, Partitions in Vans and Commercial Premises and even over Ponds to stop toddlers falling in.
With uses far too numerous to mention this Knotless Netting 45mm x 3mm weighs just 150 grams per square metre and an individual strand breaking strain in excess of 50 kilos, this netting caters for all of the above with ease.
We can supply Knotless Netting 45mm x 3mm in a great variety of colours, made to almost any size imaginable and with or without a rope edge sewn on. The rope edge gives the net a proper finish which is perfect when not framed and even if you are lacing the netting to a handrail or rack, it finishes the job off nicely. This netting can also be supplied in a Fire Retardant grade complete with the necessary certification if used in Warehouse, Gyms or Schools etc.
We purchase this material in ½ tonne bales and cut whatever size you require from the bail, size really doesn't matter as we have netting sides of buildings, perimeters of sports grounds to 11 metres height and even covered reservoirs.
Customers that have purchased this netting from us include John Lewis, The National Trust, Hi Store, Travis Perkins, many local authorities and even the M.O.D.
This Knotless Netting 45mm x 3mm is also resistant to the elements so outdoors will give many years of use. It's also used in the fishing industry so you needn't ever worry about whether it's up to the job.
Other mesh sizes and thicknesses are available on the site so you are sure to find the right netting for you.