Rubble - Dust - Refuse Sacks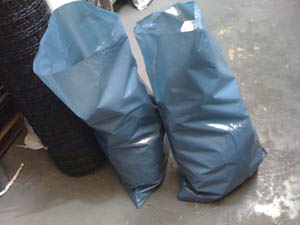 Tough reusable sacks for clearing rubble and garden waste.

Not necessarily the cheapest but we do not sell the nasty easy splitting type bin liners and sacks that are on almost every shops shelf in the country. Our bags are like the ones you got years ago, stretchy shiny proper polythene that you can fill right up.

A selection of Very Large and Very Strong Clear Sacks designed for use in conjunction with Dust Extractors.
Heavy Duty seal at the base to give an exceptionally strong sack.
Also excellent for Postal Sacks, Moving House, Attic Storage and any other application where size, strength and visibilty matter.

CLICK ON THE PICTURE TO SEE THE CHOICES.