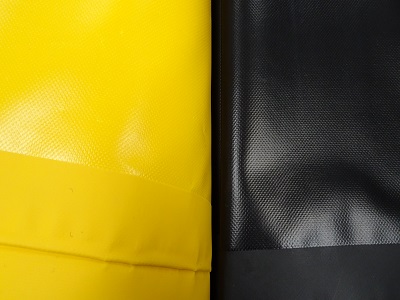 3.0 mtr Wide UV Polyester Reinforced Tarpaulin in a choice of lengths and colours - 610gsm
Ref: 393
PVC Truck Tarpaulin are the ultimate in protection and durability Manufactured in house using the best quality material known to us, At allplas.co.uk we have spent years sourcing the best quality Polyester reinforced UV resistant material, 100% waterproof designed to last many, many years. Whether you are covering a large building, small shed, paddling pool swimming pool or huge boat, this material will do the job perfectly.
With all seams vulcanised together with heat, any size sheet is 100% waterproof with very discreet seams. Hems also are folded back 50mm and sealed with heat. No stitching to rot or become un-sewn again makes the allplas Made to Measure Tarpaulin one of the best your money can buy.
When the sheets are made they are then run through the eyeleting process where we put them approximately 500mm apart all the way around. Please note the fabric is 1.5mtrs wide and thus when welded you lose the overlap on a join which is about 25mm and you lose about 40mm for each hem. So a 3mtr width becomes 2.9.
Our eyelets are 100% solid brass and can be put at other spacing's if specified.
We can also make pole hems so instead of eyelets, you can insert a aluminium tube or scaffold pole through the edge, this evens the load across the full width or length of the sheet and will therefore extend the life of your sheet.
With a great range of colours, the flexibility to produce sheets from the size of a shoe box, to as big as a football pitch makes us market leaders in the production of PVC Truck Tarpaulin
Competitive pricing with carriage included on orders over £150 ex, Best quality material and fast delivery, we tick every box.
Produced in the UK at our Letchworth Production Facility we are perfectly placed to deliver nationally at short notice allplas.co.uk makes perfect sense.
The sizes listed in this section are just ideas if you would you can always go to the made to measure section to put in any size you require.
Brass eyelets and hems are included in the prices.